Nicki Minaj Tweets Sit Down, Be Humble After Taylor Swift Drops Look What You Made Me Do
What's good, Nicki Minaj?
On Thursday night, about 40 minutes after Taylor Swift  dropped her anticipated new single, revealed to be titled "Look What You Made Me Do," the rapper took to Twitter to write, "N—a sit down. Be humble."
Coincidence? Maybe. Some fans speculated that Nicki was merely referencing the lyrics to Kendrick Lamar's single "Humble."
But if her statement is directly connected to Taylor's new release, it wouldn't be surprising.
The two feuded briefly in 2015. After it was revealed that Nicki's "Anaconda" music video was not nominated for Video of the Year at the 2015 MTV VMAs, she tweeted, "If your video celebrates women with very slim bodies, you will be nominated for vid of the year."
Taylor's "Bad Blood" video, which featured a slew of models and actresses, took the tweet as a diss and responded, "I've done nothing but love & support you. It's unlike you to pit women against each other. Maybe one of the men took your slot.."
Nicki then told her she never said a word about her, saying, "I love u just as much. But u should speak on this." Taylor then apologized and she and Nicki ended up performing together at the VMAs.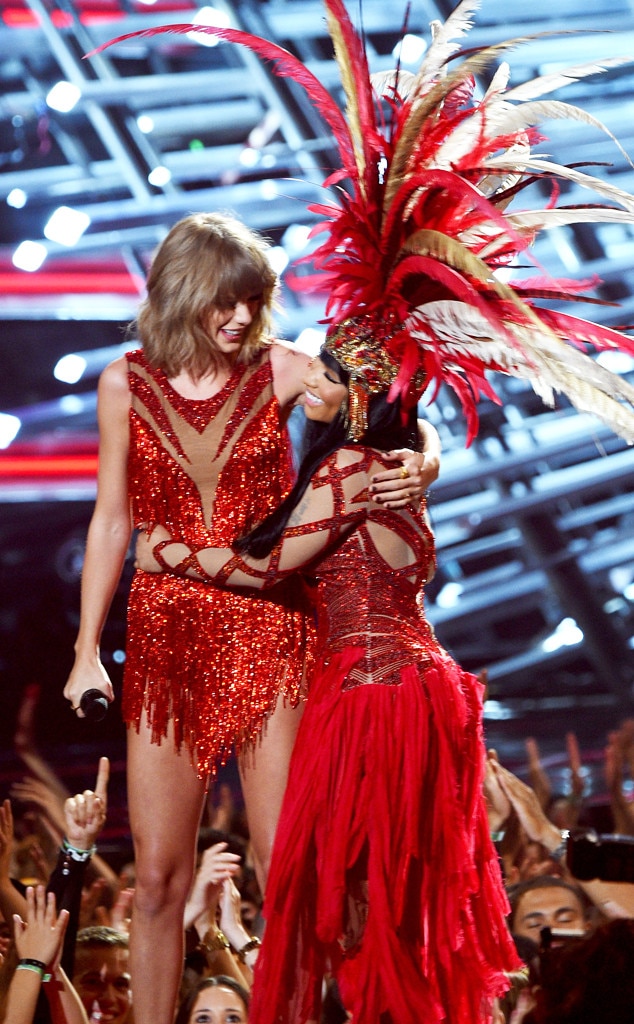 Kevork Djansezian/Getty Images Images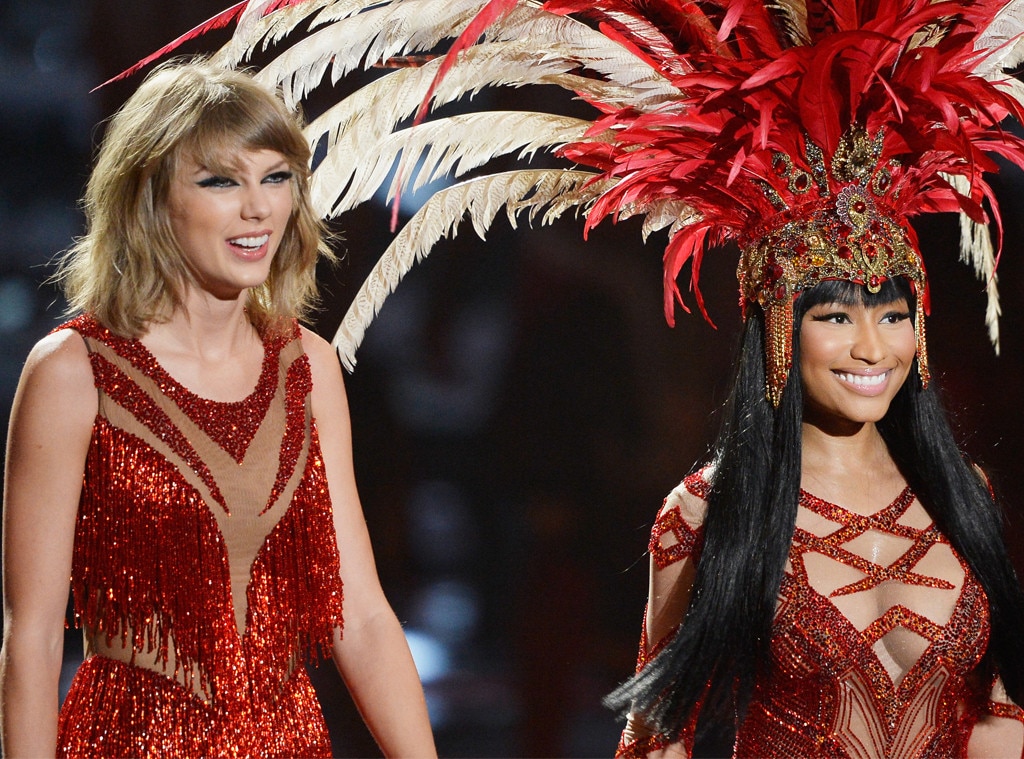 Kevork Djansezian/Getty Images Images
Soon after their Twitter exchange, Katy Perry weighed in, tweeting, "Finding it ironic to parade the pit women against other women argument about as one unmeasurably capitalizes on the take down of a woman…"
Katy has been involved in a years-long feuded with Taylor. Hours before "Look What You Made Me Do" was released, Katy dropped her music video for her own new single, "Swish Swish," which many people have speculated is about Taylor. The song and clip also features Nicki.
Katy has said the song is "not about anyone in particular" and recently extended an olive branch to Taylor, saying, "All I need to say to her is I love her and God bless her on her journey." Taylor, who has stayed out of the media spotlight in recent months, has not responded to her.
The music video for Taylor's new single is set to be released during Sunday's 2017 MTV VMAs, which Katy is hosting, and is part of her new album Reputation, which is set for release in November.
A teaser for the "Look What You Made Me Do" video, which shows images of betrayal and power, aired on Good Morning America Friday morning.
Please follow and like us: