Pink's Wild Ride: How the Warrior Pop Star Rose Above It All After Heartache, Feuds and Getting Yanked Off Stage (Literally)
Like a phoenix risen from the ashes, so goes Pink.
Not necessarily her own ashes, because lord knows she's had her combustible moments, but tonight it'll be Pink rising above the smoldering ruins left behind by the pop stars who've been busy decimating each other to help foster their own identities.
This year's recipient of the MTV Video Music Awards' Michael Jackson Video Vanguard Award isn't having it, having been there and done that. Pink even memorably called out the questionable nature of what she was hearing from some of her fellow female artists during the 2015 VMAs, a night that was indeed fraught with simmering tensions, reportedly writing on a private Instagram account, "In all seriousness; I felt sad because music is supposed to inspire. It saved my life. This trash won't save any kids life. In a world that is even scarier and with lives still worth saving, who will stand up and have soul?
"Disenfranchised to say the least. Let down by my industry and peers."
Well, the industry didn't take it personally, because now it's Pink's turn to bring it in the manner she sees fit—she'll perform as well before following in the vaunted creative footsteps of recent Vanguard Award honorees including Rihanna, Kanye Westand Beyoncé. 
MTV's 2017 choice wasn't unanimously praised, with some critics of the opinion that Pink's video output (she won Best Female Video for "Get the Party Started" in 2002 and shared Video of the Year in 2001 for "Lady Marmalade," her only nomination in that category) doesn't put her on the level of these previous recipients, let alone the award's namesake.
But as Pink would say…
So what? 
She's still a rock star, she's got her rock moves, and she's the artist we need right now to temper the animosity- and betrayal-driven tunes that are all the rage right now.
Pink, of course, has both kinds of songs in her arsenal. She's a breakup song queen—and "Stupid Girls" wasn't exactly without its targets. Though really, that 2006 song was more about a societal trope and Hollywood's tendency (raging at the time) to reward vapid behavior with riches and reality shows. Even when she name-checked "damn Britney Spears" in 2002's "Don't Let Me Get Me" and Jessica Simpsonin 2008's "So What," both instances were to emphasize her own self-declared outsider status rather than hate on anybody (in more of a feigned-jealous way, that is).
"I'm pretty confident and, at the same time, I'm pretty insecure. I'm like a walking conflict," Pink told Rolling Stone in 2002. As far as her Britney reference went, she said, "I read that [Spears'] favorite album is Missundaztood. I think she understands that I'm going after the machine, not necessarily her. She's very sweet to me. Either she's completely terrified, or she just gets it." (We're inclined to believe Brit totally got it.)
And while she hasn't been an outsider for a decade, but Pink also has managed to make her points without making enemies. 
She had a bit of a beef with Christina Aguilera during the making of the smash-hit "Lady Marmalade" with Lil' Kim and Mya, with Pink feeling that Aguilera and her big, booming voice was getting special treatment. But true to form, Pink didn't play coy about it. She later frankly admitted having had a problem in 2001, when she was 22.
After she and Xtina reunited for what could have been an awkward run-in on The Voice last year, Pink said she had the most fun working as a guest advisor with Aguilera's team.
"Her and I have had history and it hasn't always been wonderful," she told Entertainment Tonight at the time. "I think it just took us 15 years and I feel like there was true love and it felt really good." She added, "I love when you're around long enough to have a full circle moment and that was a full circle moment for me because in all honesty, I'm a fan of hers. It was just a really refreshing, nice visit."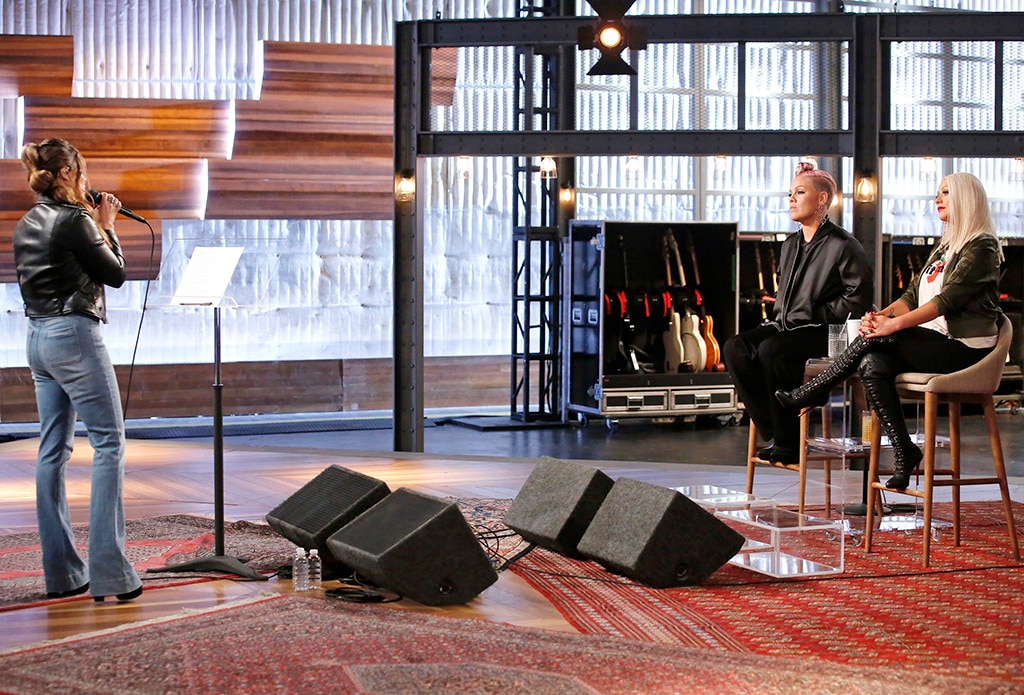 Trae Patton/NBC/NBCU Photo Bank via Getty Images
That of course has not stopped hardcore Xtina fans from continuing to wage war on her behalf. They immediately slammed the Video Vanguard choice this month, prompting Pink to reply, "Want to point out an awful new phenomenon of the last 10 years. We can no longer be happy for each other. Xtina and I, we've made amends." (Aguilera, whose first new album in five years is also rumored to be coming out sometime in 2017, astutely didn't weigh in.)
Pink took the same tactic when, among the various 2015 VMAs performers who didn't cut the mustard for her, Demi Lovatowas the one to fire back, tweeting, "Cool For The Summer may not 'save kid's lives' or 'inspire' but I'd say Skyscraper & Warrior have done a pretty good job of helping people cope with mental illness. VMA's are sexy and fun. There's a time and place for everything."
Not to Demi, but to the endless stream of people gearing up for a potential clash, Pink replied, "Please look for a feud elsewhere. I have no issue with Demi Lovato or anyone else. I actually forgot she performed. I have opinions. MANY."
Hardly a compliment thrown Demi's way, but that was just Pink sticking to her guns, which were not aimed at any one person.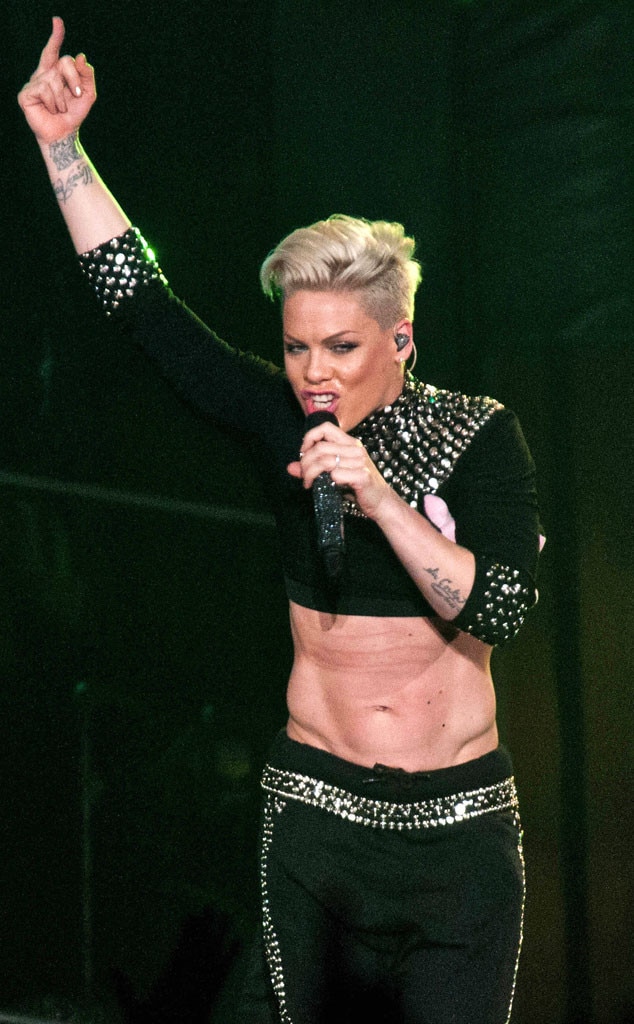 AKM-GSI
Another aspect of her musical inclinations that has helped her become a guiding light among female fans: most often her ire is directed at an amalgam of crappy men—and sometimes just at the single male figure of husband Carey Hart, the target of her revenge anthem "So What" after they briefly separated in 2008. Their roller-coaster romance has resulted in endless inspiration for her music.
"This is the dream I had when I was four, and now I've done it," she told London's Telegraph in 2012 after reaching No. 1 on the U.S. album chart for the first time with The Truth About Love. "I no longer feel like the underdog with a point to prove. My husband is, like, 'Hey, it only took you nine years to get people to like you.' I'm like, 'It took me nine years to like you, too…'"
Quite the kindred spirits, those two.
Asked in 2013 if it was difficult to accept that their relationship was in a good place, she told Glamour, "Accept that it's good? Are things ever good? I don't believe that exists. Long-term relationships are an everyday choice. It's harder to be in a marriage than it is to bounce from one relationship to the next. We're good because we communicate and we've grown up together, not because we don't fight."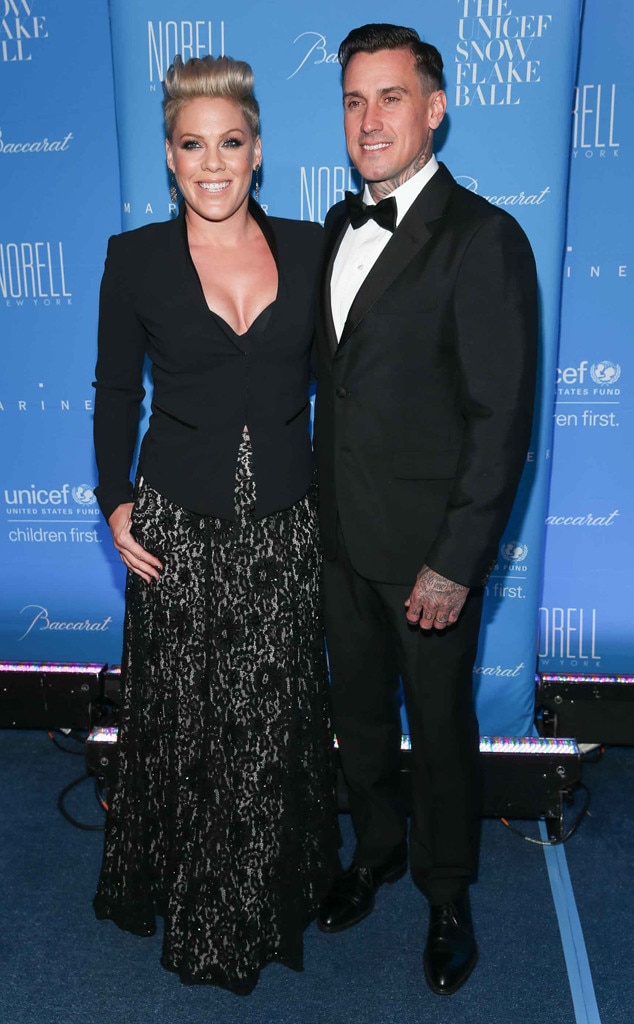 Rob Kim/Getty Images
But a Pink song almost never leaves you worse for wear, no matter how nasty the fight or bitter the regrets. Even when she wrecks you, it hurts so good. 
Some of that is simply her voice—deep and powerful, capable of being heard on its own without all the bells and whistles.
Next is her savvy song choice and the writers and producers she's worked with over the years, from Linda Perry to Max Martin. Sometimes she wants you to sway (or curl up in the fetal position and weep, whatever), but more often she wants you to dance, or at least sing along really loudly in the car. "Just Like a Pill," "Who Knew," "F–kin Perfect," "Please Don't Leave Me," "Blow Me (One Last Kiss)," "Try" and most recently her new single, "What About Us"—all emotional, all eminently listenable on repeat because they're all looking on the bright and dark sides at once, fiery yet vulnerable.
"I try to lead by example and tell these stories because we're all going through the same s–t," she told the Telegraph. "If I feel like I empowered somebody, then I did what I was raised to do."
She also has her more literal empowerment anthems, like "Get This Party Started," "Raise Your Glass" and "Just Like Fire," in heavy rotation on any DJ's special event list, making her a fine choice should the NFL ever come calling about a Super Bowl Halftime slot. 
"The other day, I picked up [daughter Willow's] friend, who started singing, 'Raise Your Glass,'" Pink recalled recently to Us Weekly. "My daughter rolled her eyes and said, 'That's not even one of the good ones!'"
Surely Pink is proud AF that she can rely on her firstborn to be the keeper of her deep tracks.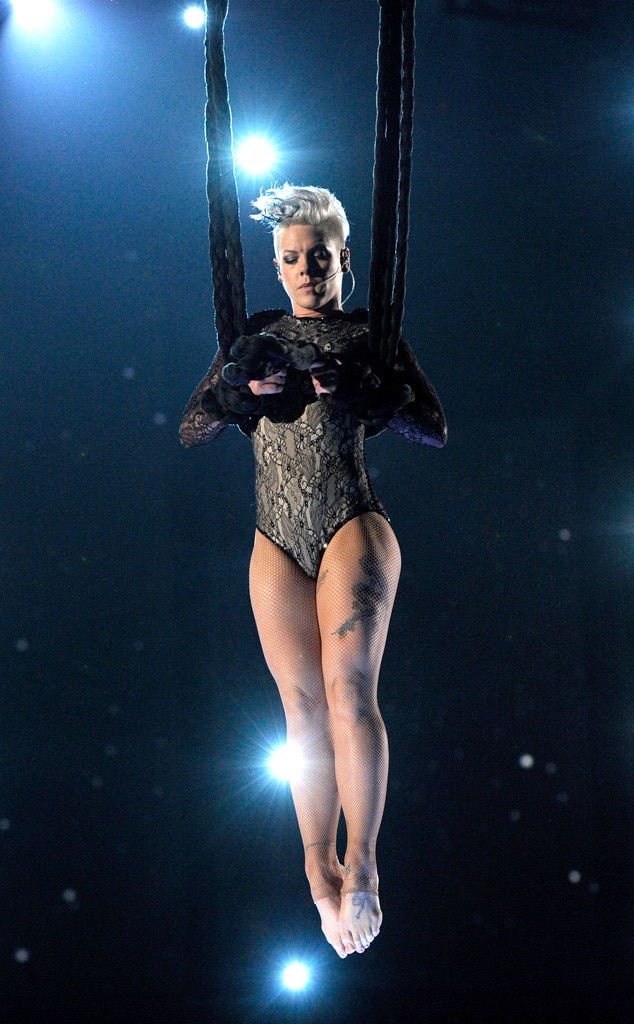 Kevork Djansezian/Getty Images
And of course, there's her now signature aerialist routine, which she added to her performance repertoire over a decade ago during her I'm Not Dead Tour. Part gimmick, part perfect illustration of what she's trying to convey—power, strength, the ability to actually rise above it all. The tricks have increased in difficulty over the years, and she didn't let a nasty spill during a show in Germany in 2010 deter her from flying ever higher.
"I'm not sure, but possibly broke something," Pink, hunched over in pain, apologized after managing to make it back onstage after an equipment malfunction led to her being yanked into a barrier—luckily before she had taken flight. "Very sorry I'm not going to be able to do the last song."
She ended up in the hospital that night, but really she's had few technical snafus visible to the naked eye.
She sang "Sober" at the 2009 VMAs hanging upside down from a trapeze, trotted out the aerial silks for the 2010 Grammys and blew the crowd away again in 2014, executing a flawless routing while at least partially belting out "Try" (there are the limitations of the human vocal cords to consider, which is what pre-tracks are for). At last year's Billboard Music Awards, she went for the full-on "warrior princess" look as she soared over the audience—a most fitting tribute to the artist she has become over the years.
And now Pink's seventh studio album, Beautiful Trauma, is on the horizon, her first album since 2012's The Truth About Love, and she has shared that she's "certifiably, insanely proud" of it.
"I'd like people who never thought they'd listen to a Pink album to be enlightened about how an artist can take control of her life, do what she wants, and f–kin' break the mold and be successful," she said—all the way back in 2002.
Fifteen years later, she can rest assured she did exactly that.
Please follow and like us: